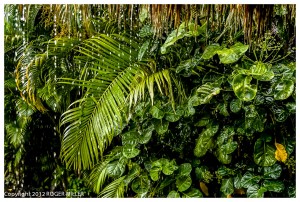 WEEKLY PHOTO – FEBRUARY 18 – RAIN IN THE JUNGLE
From Roger Miller, Photographer; Image Publishing, Ltd. and The Workshops in Digital Photography
I took this photo last year when I was in Cozumel, Mexico to photograph a wedding. I was exploring the island while everyone else was partying. I took this photo on a golf course cut out of the jungle. The jungle in Cozumel is low and dense. I had rented a golf cart with a roof and when it started to rain I just sat on the path and enjoyed the rain. It was quiet, warm and beautiful. I do not think I would like to live in a jungle. Besides the heat and the bugs they had crocodile warnings on all the greens. But, there was a certain sort of beauty in the jungle. It is important if you are doing photography to find beauty where ever you are. If you want to work on your photography join Jeffrey Wolk and me in our Digital Workshops. See our Website at The Website. Tech Data: Shot July 30, 2011, Nikon D700, used 28–300 mm f3.5 Tamron lens, ISO was 1250, exposure was 1/400 at f 5.6, comment- should have brought the ISO up to 2500 or 3200 and used a F stop of F8 or F11 to get more depth of field.
Keep away from the crocodiles and have a good week!!!
If you have any questions or comments please let me know!!