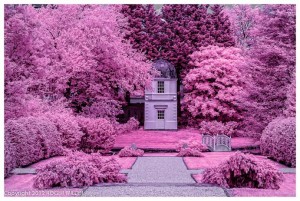 Here is something warm and wonderful when the winter winds are blowing.  I took this photo of the Spring House at the Paca Garden with my digital camera modified for infrared images.  It has taken me awhile to find my "voice" with infrared photos.  I am still exploring.  I have found the best combination is in both the shooting and post processing of the images.  I love doing infrared images and creating photos with intense color.  If you want to learn some of the techniques I used enroll in our Workshop in Annapolis.  See the link for the Workshops below.  Tech Data: Image created April 27, 2012, Nikon D200, with a Tamron 18-250 mm f 3.5 lens, ISO of 200, exposure was 1/80 second at f 13.0.  Infrared does not expose the same as normal light.  You need to use your histogram to see if it is a good exposure. The best combination is a tungsten white balance, and a RAW file.  I processed the file first in Lightroom and then reversed my red and blue channels in Photoshop.  I then enhanced this image with a Topaz filter.
Enjoy something warm and wonderful and have a great week!
I welcome your comments.